You probably don't need me to tell you that Apple reported earnings yesterday. Every financial media outlet out there has some type of article announcing the results. Here are a few of the article's I've come across this morning:
Summary of Q2'16 results
Revenue: $42.4 billion for Q2'16 vs $49.6 billion for Q2'15 (15% decline)
Gross margins (%): 38% for Q2'16 vs 39.7% for Q2'15
Net income: $7.8 billion for Q2'16 vs $10.7 billion for Q2'15 (27% decline)
Earnings per share: $1.42 for Q2'16 vs $1.85 for Q2'15 (23% decline)
International sales accounted for 63% of the quarters revenue
The media and Apple
The media has recently loved to hate apple. Being one of the largest companies in the world, I wouldn't expect anything less. Today though, they have changed their tune slightly as I'm looking through today's articles. Some articles focus on the "better than expected results" while others focus on the declining sales and profits. Over the past few quarters, Apple has gone from one of the most popular companies to report on to one of the most unpopular. The Company continuously gyrates from in-favor to out-of-favor. These types of reactions create opportunity for the value investor.
Apple's 52-week high is $123.82 and low being $89.47, with their all-time high being achieved in April 2015 at a price of about $132 per share. So between the all time high and the recent $89 low, there is a delta of $224 billion of market capitalization. With a company of this size, that type of value can certainly be lost or gained over the company's lifetime but based on the information that has been released over the last year, I don't believe the market truly knows if $224 billion dollars has been lost from the company's value. Over this time, it is likely the true value of the company has not changed very much. For the purposes of this post, I am staying away from a full blown financial analysis (no valuation), but rather a qualitative discussion on Apple's current state of affairs.
Leadership
There is no doubt I believe Apple would be better off with Steve Jobs at the helm. His genius and product innovation were unmatched. He was known for not asking what the consumer wanted but giving them what they didn't know they wanted. Jobs did this with the iPod and iPhone. In 2011, Tim Cook, Apple's former Chief Operating Officer became CEO. While I believe Job's is the better leader, I still believe Tim Cook is a great one. He helped launch the iPad and continued to develop it into the success it is today as well as other new products. I will get to product development and his leadership through capital allocation later. I like the team at Apple because they are level headed. Tim has been quoted that he likes to block out the noise and focus on the long-term plan. He doesn't care focus on quarter-quarter progress, but rather focuses on the company in terms of years. As a value investor, I like this long-term thinking.
Capital Allocation
Apple currently has a $250 billion capital return program, of which they have completed $177 billion through share repurchases and dividends. They announced their Q2 dividend of $0.57 per share, implying a 2.2% annual yield at current prices. They have paid a regular quarterly cash dividend since Q2 2012. R&D spend is ~5.0% of revenues. This is a large percentage given the size of the company, and turns out to be a large quantum. They are continuously re-investing and growing the business through new product development and investing in new markets. Here is a chart on their historical quarterly R&D spend.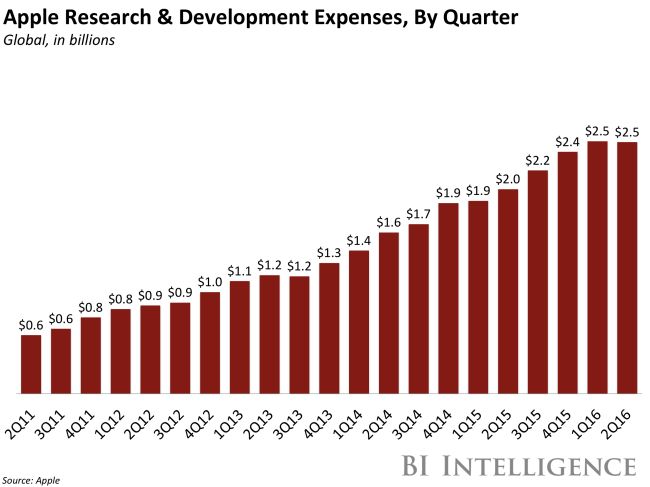 The Company generates north of $50 billion of free cash flow per year, which covers their annual capital return program (they returned $13 billion in Q2'16). They have ~$200 billion in cash and securities which are largely held in overseas accounts. The big question is (and everyone else is asking this too) what are they going to do with their cash? Their free cash flow already takes care of capital distribution toward shareholders. When will Apple make a big acquisition?
Apple's latest large acquisition was the $3 billion dollar acquisition of Beats Music and Beats Electronics in 2014, which has become the backbone of Apple music. They also recently invested $1 billion in Didi, the ride-share service in China. These acquisitions/investments are minuscule compared to the cash pile left over. Cash is known as king, but cash is not king when it is in extreme excess. This capital could be allocated toward higher returning assets. The fact that they haven't made a large acquisition is okay by me, for now. It shows the company is disciplined and focused on making the right investments that are high-return and fit into the Apple ecosystem. They are not investing for the sake of investing. As a company that is still investing heavily in growth, I will hold my tongue and wait to see what happens. Their current growth investments will take years to pan out. And, if there is a market correction, recession, or any type of economic malaise in that time, Apple will be just fine considering their cash pile. Plus, there will be a dividend to collect in the mean time.
Products
Apple is very dependent on one product, the iPhone. I own one, you probably own one, most people you know probably own one. I guess at this point my post has been more optimistic on Apple's story than pessimistic. I will note that I believe their dependence on the iPhone is a real risk. It accounts for ~65% of their revenue. An iPhone market in decline does not spell good news for Apple. The decline could be due to it being the end of the iPhone 6 cycle. It is also likely do to the high competition in the smart phone market. The iPhone 7 is being released in September, so this will be sorted out soon.
Apple has remained as focused as ever with their products, not venturing far out from their "bread and butter" of phones, computers, tablets, and music. The iWatch has done well, but it's not something that is going to move the needle for the company. They need something big, therefore I'm interested in seeing what happens over the next few years as they expand their portfolio. The Apple Car (or some type of transportation system) is no huge secret, and could be the game changer. What about home automation?
Intangibles: The Brand
I truly believe that one thing that has been left out of many of the analyses I've read through is the brand value of Apple. According to BrandZ who publishes an annual report on the world's most valuable brands, Apple ranks as second. Here is BrandZ's top ten: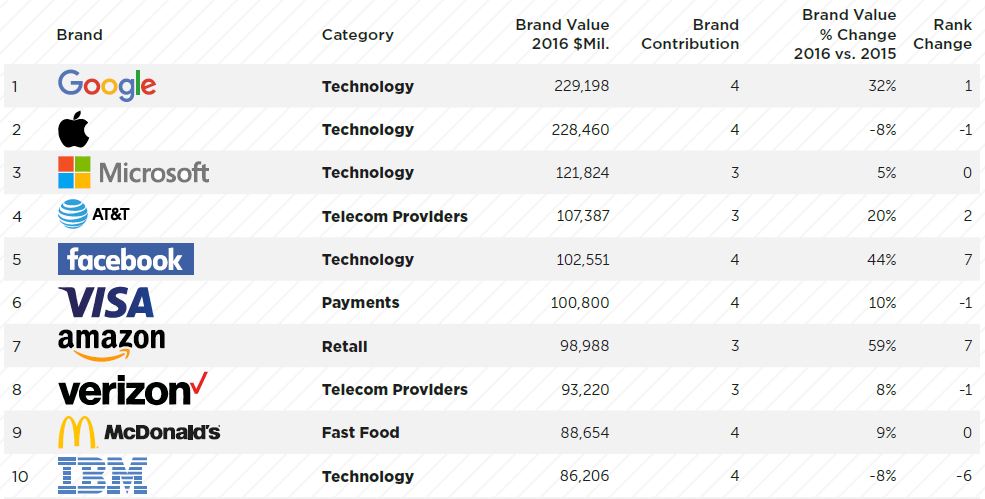 It is this brand value that can continue to drive Apple's success as new products are launched.
A quick note on valuation. The company is trading at 11.5x current earnings and 7.8x EV / EBITDA. As the largest company in the world, I would expect for them to be trading at a discount, but not at such a significant discount to their peers considering their cash generating ability. They have higher margins than almost all of their peers.
With their brand value, new products in the pipeline such as the iPhone 7, potential car/transportation project, growth in new markets, services potential, ability to make incremental high-value acquisitions, very solid fundamentals and capital returns to shareholders I see Apple as a Sleepy Capital-type investment that you can hold on to for many years to come.
Readers: What are your thoughts on Apple? How have your views changed over the past few years as you have followed the company? Is anyone betting against them?
Disclaimer: Nothing contained on the website constitutes investment advice or offers any opinion with respect to the suitability of any security, and the views expressed on this website should not be taken as advice to buy, sell or hold any security. Responsibility to conduct due diligence on any security mentioned in this blog resides with the reader.