"Whereas high quality can be readily apparent, it takes keen insight to detect cheapness. The superior investor never forgets that the goal is to find good buys, not good assets." Howard Marks, Oaktree Capital Management.
Company overview
FitBit was founded in 2007 by James Park and Eric Friedman, who are still the CEO and CTO of the company, respectively. Fitbit is a developer of wearable devices that track an individual's health. It offers products which can track a person's activities, such as calories burned, sleep quality, steps and distance. The Company IPO'd in June of 2015, raising ~$530 (pricing at $20.00 per share). Current share price as of 6/14/2016 is $13.01.
Products

Fitbit's products cater to three primary categories. Every day wearers, Active and Performance users allowing them to attract a diverse customer base.
Investment overview
Fitbit has gone under sever scrutiny by the market causing a YTD share price decline of ~45%.
Primary reasons for the decline in the stock price are:
Heightened worries regarding maintaining high growth (the company grew ~150% in revenue in 2015A)
Strong competition in the market from various products /companies (Apples iWatch, Garmin, Samsung, Xiomi and other manufacturers)
Lawsuit over FitBit's PurePulse heart rate accuracy
Recently, the market did not like to hear that costs would be high for their two new products and that R&D would hurt operating margins in 2016
Despite these concerns, FitBit still remains the global market leader in their category of wearable devices. For the overall market, there is a prevalent short-term investor mindset for this company, especially as seen through the market's worry over #4. The Company is investing heavily in growth, therefore margin pressure would be expected. They are developing and launching new products (in 2015, they tripled their R&D spend). There are also worries around marketing spend (which they also tripled). This is another "growing pain" of entering new markets. North America remains over 70% of the company's revenue (2015A breakdown was about 75% / 25%), but they are aggressively investing in expanding abroad. Consumers like the price point, which on average is a little over $100, compared to the Apple Watch of $300+. For those seeking purely a simple fitness tracker, there are few other products that are of as high quality and affordable as Fitbit devices.
Valuation and historical financials

Valuing a company like FitBit is difficult. Take Joel Greenblatt's often-heard advice. He often looks in the news paper and sees divergence between the 52 week highs and lows for a company. The share prices of most companies gyrate up and down, but the true value of a company likely doesn't change much over the short term. He says that there is a divergence between prices and values, and because prices fluctuate more than values – so therein lies opportunity. FitBit has less of a track record than most companies, making things a little bit more complicated to determine it's true value. They recently IPO'd in 2015. We have financials back to 2011. We see that they became profitable in 2014. Two years of profitability is not a large data set, but there also could be more than meets the eye here when it comes to the market's current mispricing.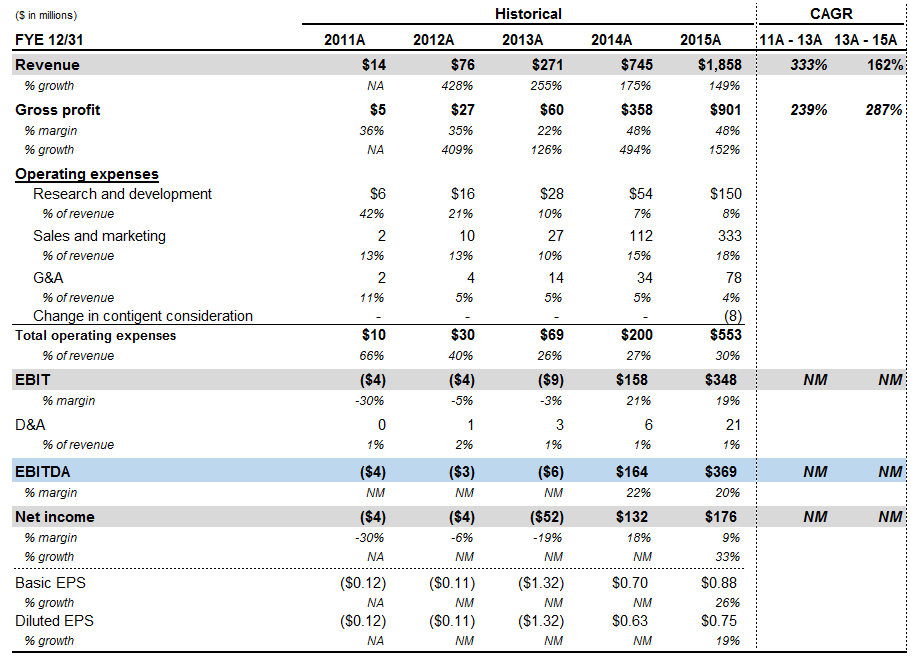 There are a few things again to note:
(1) The continued focus on R&D. (2) Strong marketing spend. (3) Extremely strong gross profit margins, with solid operating profit margins. Again, recently gone under pressure due to it's high growth. (4) Again, reiterating the companies high-growth nature. Fitbit grew ~150% in revenue 2015. We can not expect this high of growth in the future, but there is an argument today that it is currently priced as if it were to grow no more.
As I mentioned, Fitbit is a difficult company to value. There is no single best comparable company for them, therefore I can't rely on relative value to other companies. From a DCF perspective, there are a variety of scenarios I could rummage up that would give me a variety of different values. I am not going to present that though, since they are as useless to you as they are to me. What I do believe is relevant, is that if this company were to grow no more, I believe it would intrinsically be valued at it's current price which is roughly $13.00 per share. Below is this discounted cash flow approach. Assumptions are listed below.
Assumes FitBit misses 2016 estimated revenue guidance (given as $2.5 BN – $2.6BN in revenue per latest 8K report) and has $2.4 billion in revenue for full-year 2016. The Company maintains sales and grows no more.
Assumes 39% tax rate on operating profit (EBIT not shown on DCF)
Assumes decline in EBITDA margins in 2016 and maintains same % of revenue going forward.
Capital expenditures of 3.0%, slightly increasing each year.
Cash outflow of ~$20 million every year to cover working capital needs
Base case terminal multiple method assumes 8x terminal multiple on 2021 EBITDA and 10% discount rate
Base case perpetuity growth rate method assumes 2.0% terminal growth rate and 10% discount rate.


The Market and Competition
The market for wearable devices is fierce, making Fitbit operate in an extremely competitive market. This is one of the major reasons their share price is under pressure. In 2015, their estimated market share was 27% as compared to 38% in 2014. In 2015, their were 78 million wearable devices sold in the market by all vendors. By 2019, it's estimated that just short of 150 million devices could be sold. One of the analyses I did was to look at what Fitbit's hypothetical revenues would be based on maintaining a 20% market share out to 2019. Assuming the same price per unit sold of $87 (based on 2015A numbers), this would make their revenues in 2019 of roughly $2.6 billion ($87 per unit * (150mm unites  X 20%)) or selling 30 million units in 2019. In my opinion, this analyses doesn't show quite as bright of a future as others, and shows how much potential loss of value could be assumed by a loss of market share.
The questions we must ask ourselves are (1) Will they maintain leading market share in the wearable market? (2) Does Fitbit have the resources and innovative technology available to continue strong consumer interest in their products? (3) Can the company maintain current customers and have re-peat customers as they develop a product cycle? (4) Are they allocating capital properly and investing in growth? (5) Are they an acquisition candidate?
(5) => I believe a major catalyst for this company is that it could eventually be an acquisition candidate or warrant a significant investment by a major athletic company. If uncertainty remains in the market for 2 years (and I understand a lot can happen in 2 years), intrinsic value is maintained and the company remains fundamentally sound, there is the potential for a competitor or financial sponsor/private equity firm to buy the asset to try and turn the situation around.
I may not know where FitBit will be in 10 years, but at current levels, I believe there is significant potential upside for FitBit stock over the next 2-3 years. The company has a leading position in the market, they investing heavily in growth, allocate capital efficiently, are fundamentally sound and have an extremely clean balance sheet. For those that can hold tight and wait for the market to realize this, it may be a fruitful investment.
Disclaimer: Nothing contained on the website constitutes investment advice or offers any opinion with respect to the suitability of any security, and the views expressed on this website should not be taken as advice to buy, sell or hold any security. Responsibility to conduct due diligence on any security mentioned in this blog resides with the reader.