Introduction
Alaska Airlines is a solid, well-run company that is trading at a discount to its intrinsic value. It holds attractive characteristics and a risk-reward ratio that can't be found in other airlines. The company was found in 1932 and is headquartered in Seattle, WA. It is a low-fare premium product carrier that focuses on Alaskan, west coast and regional flights. It is significantly smaller in size to some of the large US carriers, with ~$8 billion in enterprise value compared to $36 billion and $26 billion of Delta Airlines and Southwest Airlines, respectively. In 1986, the company acquired Horizon Air, expanding its reach on the west coast. Its three segments are: Alaska mainline, Alaska Regional and Horizon, which account for ~78%, ~16% and ~7% of the company's operating revenues, respectively. Recently, on April 4, 2016, Virgin America announced that it has agreed to be acquired by Alaska Airlines.
Historical share price performance
We all wish we would have invested in Alaska Airlines five years ago. Past performance does not guarantee future results, but we can see that Alaska Airlines has performed exceedingly well. The recent decline in share price of ~25% from a high of $87.17 (December 2015) and ~20% decline year-to-date warrants a closer into the company.

Why has the company declined ~20% year-to-date? Primary worries for the company are as follows:
Alaska Airlines may have over-paid for the acquisition of Virgin
Confusion as to whether the merger combination makes strategic sense
Integration risk overhang on the company
Potential loss of customers due to possible change in Virgin America brand
Speculations that the merger will be declined by the DOJ
Overall pressures on the airline industry (i.e. increase in oil prices and competitive factors)
A note on operating performance
Alaska has had very consistent top and bottom line growth as well as the strongest margins across the industry. They consistently pay a dividend ($1.10/1.6% annually) and repurchase shares.
The competitive environment
It's no secret that the airline industry is fiercely competitive. In 2015, the top four carriers (Southwest, United, Delta and America Airlines) controlled 84% of the US market, leaving Alaska Airlines, Virgin America, Spirit, JetBlue, among others, splitting up the other 16%. With major airlines taking up the majority share of the market, the regional carriers are in fierce competition to remain relevant and competitive in this environment. The merger Alaska has announced with Virgin America is a push toward this notion.
The merger with Virgin America
Case for relevance
The merger with Virgin America gives an immediate increase in scale and access to new gates across the United States. Alaska has a minimal presence in California, which is one of there largest growth opportunities. Buying Virgin America immediate gives them 8 gates in SFO and 6 at LAX, along with 60 new gates on the east coast. The new entity will have the largest seat share among all of the airlines on the west coast.

Source: Alaska Airlines investor presentation.
Strategic fit and considerations
Two of the youngest and most fuel-efficient fleets in the industry that are focused on strong operations, exceptional customer experiences and employee loyalty, are combining. Both companies are widely recognized as best-in-class and are in the low-fare premium product category. They are known for their excellent customer service and strong brands. Virgin itself, has attracted a very loyal customer base through its cool, trendy brand and unique offerings. Chief Executive Officer of Alaska Airlines, Brad Tilden, has mentioned that the Alaska Airlines brand is going nowhere and that they are reviewing options for the Virgin America brand. There is worry in the investment community that the loss of the Virgin brand will hurt their cult-like following and cause a loss of customers. There will no doubt be a transition in the Virgin Brand and a loss of some customers, but don't count the brand out entirely. Personally, I believe the brand will stick  around in a significant way. They will not operate as separate businesses, but the brand may be a premium service that they continue to offer in the future for certain flights. Could we be seeing a Virgin Alaska premium flight service? Alaska's plan is to do a deep review over the next 12 – 18 months and then make a definite decision on how to proceed. They plan on reviewing both Alaska and Virgin's operations, integrating the best of both worlds and removing what will not create value for Alaska going forward.
Balance sheet impact
Alaska Airlines is one of two investment-grade airlines in the US. They have a very strong balance sheet with $1.3 billion of cash and only $686 million of debt. They plan on financing the acquisition with $600 million of cash on hand, and issuing $2 billion of newly issued debt. The total consideration is $4.0 billion when including the $2.4 billion of debt and leases assumed of Virgin America. Post-merger, the debt to total capitalization will be 58% (still less than most of the industry) and the plan is to de-leverage quickly. They will slow share repurchases in 2017 to help with debt pay down but they will resume their capital allocation plan afterward.
A glance at valuation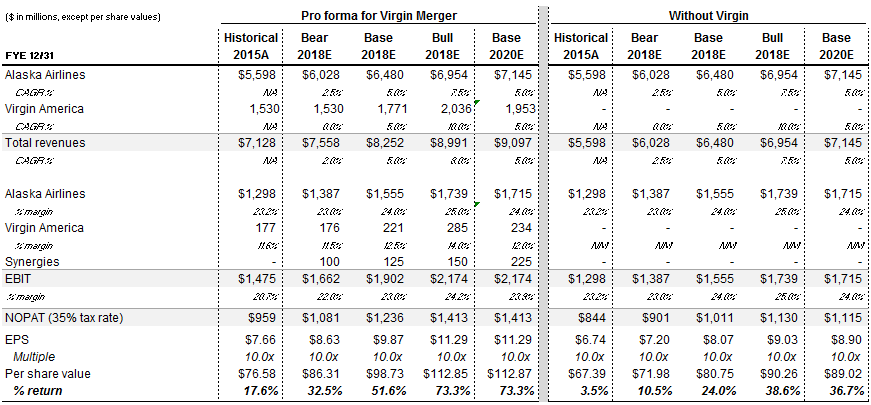 Note: Sleepy Capital analysis. Current price of $65.12 as of May 12th, 2016.
Base case notes:
Revenues: 2010A – 2015A Alaska CAGR is ~8%; 2011A – 2015A Virgin America revenue CAGR is ~10%
Operating margins: Post merger pre-tax margin is expected to be 23%, therefore I have kept it in range with reasonable assumptions. There are $225 million of expected annual run-rate synergies that are expected to be fully realized in 2020 (thus have included a projected 2020E column) Management expected 65% of the synergies to be realized by 2018E (or ~$150 million), therefore I have taken the conservative approach and modeled $125 million.
Earnings multiple: Applying the multiple to the current year, rather than on a forward basis. Based on current comparable companies range of 9.0x – 11.0x earnings seems like a reasonable multiple to apply.
The Management
The management team is the X-factor when it comes to investing in Alaska Airlines. They have an extremely solid team. Bradley Tilden is the Chairman, President and CEO. At age 55, he has been with company for 25 years and has been a member of the board of directors for 5 years. Brad owns ~0.2% of the company, which is the equivalent of a ~$12 million stake at current prices.
The CFO, Brandon Pedersen, has been with the company for 13 years. The board of directors has five members that have been on board for over ten years. The company is shareholder oriented and has a strong focus on growing the business while also returning cash to shareholders. They pay out an annual dividend as well as they been repurchasing shares aggressively while their stock has been undervalued.
Conclusion
Today's airline industry is much different than in the past. There has been significant consolidation, a focus on shareholders, and a niche aspect that wasn't as present before. In the past, airlines wanted to provide flights to everyone, everywhere. Today the airlines have tried to focus on what they do best. For Alaska Airlines, that means becoming the premiere airline on the west coast. The company is going through a transition period with the acquisition of Virgin America. There is an interesting dynamic at the moment, as the share price as declined 15% year-to-date due to multiple worries, mostly related to the acquisition of Virgin America. There is high tangible value in the acquisition through synergies and strategic overlap, but there also may be an unknown intangible value with the acquisition that management will create. In the event that the acquisition does not occur (viewed as highly unlikely), Alaska will still operate as a strong standalone company and is still undervalued at their current price. For an investor with a long-term horizon, Alaska Airlines is a great company and has an attractive risk-reward factor with the Virgin America acquisition that can't be found in other airlines.
Disclosure: Long Alaska Airlines
Disclaimer: Nothing contained on the website constitutes investment advice or offers any opinion with respect to the suitability of any security, and the views expressed on this website should not be taken as advice to buy, sell or hold any security. Responsibility to conduct due diligence on any security mentioned in this blog resides with the reader.